Chiudi gli occhi e goditi la nostra
Il modo migliore per vivere la bellezza delle coste sorrentine e amalfitane è dal punto di vista del mare, e il mare è la nostra più grande passione. Nel corso degli anni, la nostra flotta si è arricchita di diversi modelli, dai più lussuosi a quelli adatti al puro divertimento. Scegli la tua barca preferita o chiedi maggiori informazioni: inizia il tuo viaggio indimenticabile, diventando un viaggiatore invece di un semplice turista.
* Il servizio non include la benzina, il ritiro dall'hotel, il pranzo a bordo e i cocktail.
Alcune destinazioni che potresti visitare con la nostra flotta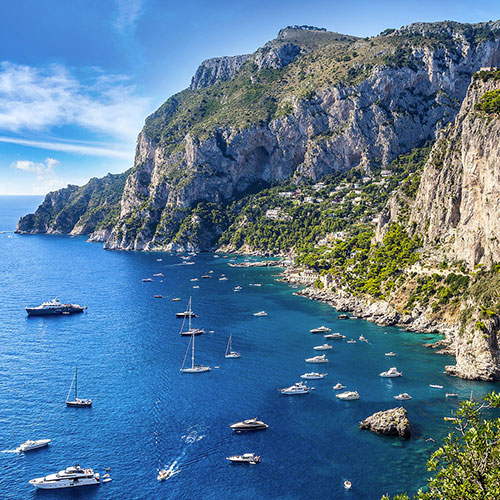 Capri
Capri non può essere descritta attraverso le parole, ha bisogno di essere vissuta con gli occhi e il cuore spalancati. È un paradiso unico al mondo, dove la natura si esprime nel modo più potente, con i meravigliosi Faraglioni e le incredibili grotte.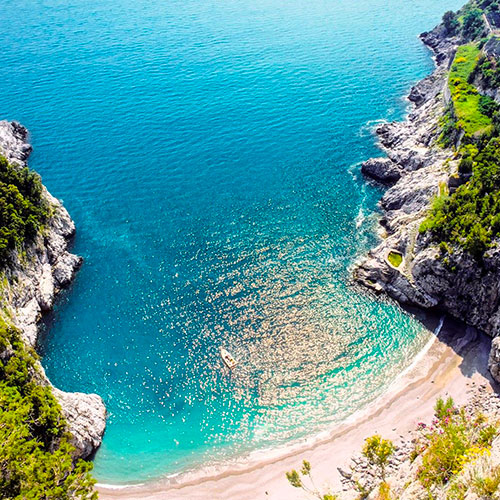 Amalfi
Antica Repubblica marittima, Amalfi è stata dichiarata Patrimonio dell'Umanità dall'Unesco. È una delle città più turistiche della zona, molto simile a Positano. Non puoi perdere l'occasione di visitare la meravigliosa Cattedrale e scoprire le baie nascoste!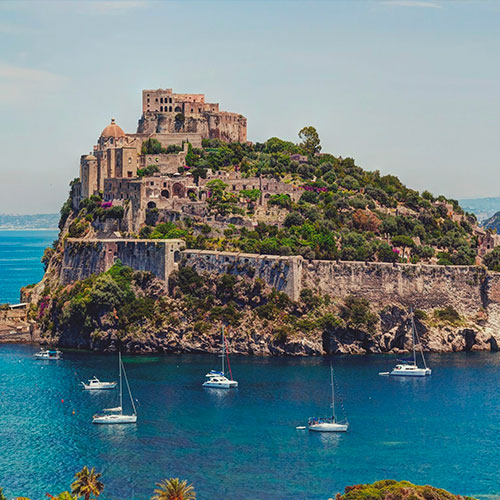 Ischia
Ischia è sorprendentemente bella in quanto offre tutto il necessario per vivere una vacanza fantastica: paesaggi mozzafiato, cibo straordinario, antichi bagni termali. Assicurati di dedicare del tempo per scoprire il sito storico del Castello Aragonese.
Positano
Positano è una destinazione da cartolina, con le sue tipiche case colorate incastonate nella baia e coperte di fiori. Le strade strette portano a acque cristalline e si respira un'atmosfera di arte e tradizione tutto intorno!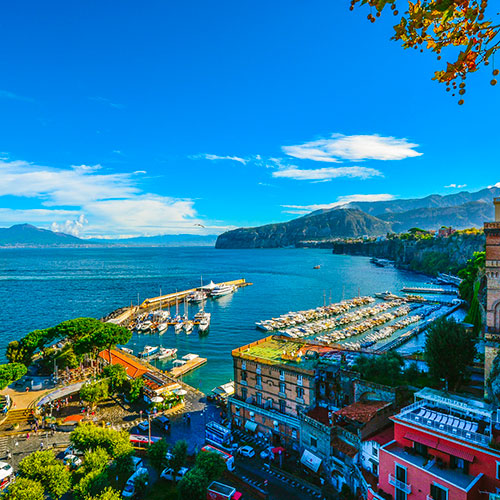 Sorrento
Di solito Sorrento è considerata il punto di partenza per un viaggio intorno alla costa, perché la sua posizione strategica permette di raggiungere i posti più belli della zona. La verità è che questa città nasconde angoli segreti che meritano davvero la visita!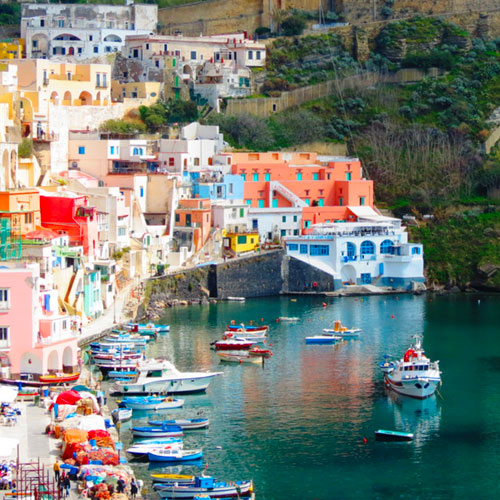 Procida
Procida è un'incantevole isoletta, situata a soli 3,4 km dalla terraferma di Napoli. Puoi esplorare tutto semplicemente camminando, perso nei colori vivaci e nei profumi. È uno spazio in cui il tempo si ferma e ti fa vivere un'esperienza da sogno!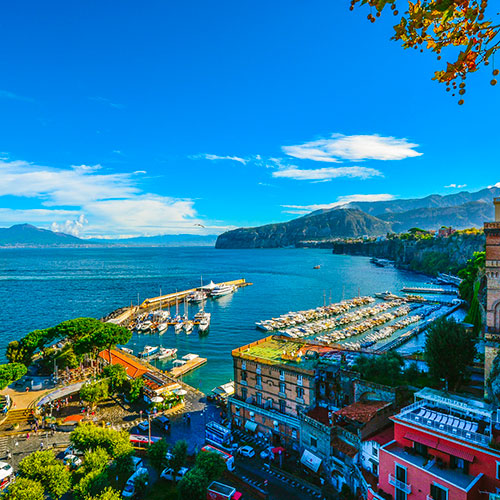 Sorrento
Sorrento is usually considered as the starting point for a journey around the Coast, because its strategical position allows to reach the most beautiful places of the area. The truth is, this town hides secret corners really worth the visit!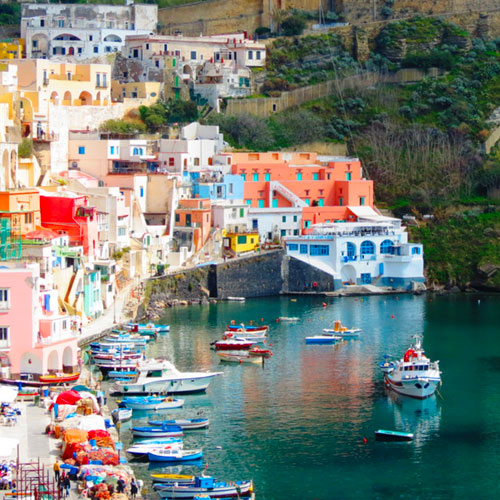 Procida
Procida is an amazing little island, located just 3,4 km from Naples mainland. You can explore it all just walking around, lost in the vivid colors and perfumes. It's a space where time stops and makes you live a dreamy experience!
Positano
Positano is a postcard destination, with its typical colorful houses nestled in the cove and covered in flowers. The narrow streets lead to crystalline waters and you can breathe an atmosphere of art and tradition all around!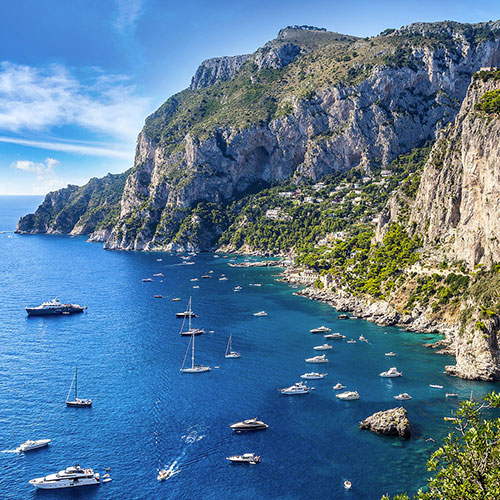 Capri
Capri can't be described through words, it needs to be lived with eyes and heart wide open. It is a unique heaven on earth, where nature expresses herself in the most powerful way, with the stunning Faraglioni and amazing grottos.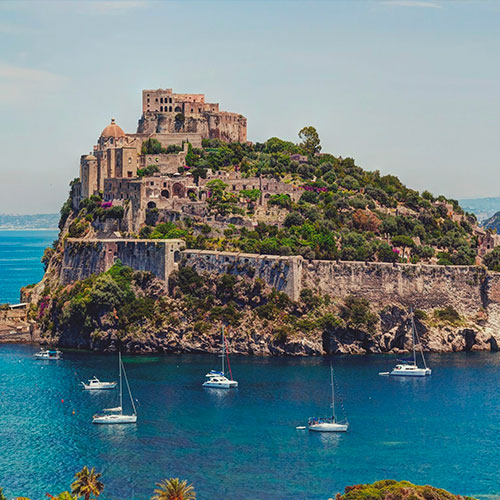 Ischia
Ischia is surprisingly beautiful as it offers everything you need to live a great holiday: breathtaking landscapes, amazing food, ancient thermal baths. Make sure to dedicate some time to discover the historical site of Castello Aragonese.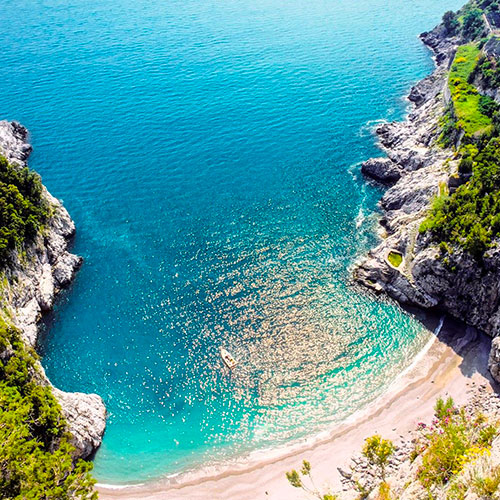 Amalfi
Ancient maritime Republic, Amalfi has been declared Unesco World Heritage. It is one of the most tourist towns in the area, very similar to Positano. You can't miss the chance to visit the amazing Cathedral and discover the hidden bays!